92 Seabury Road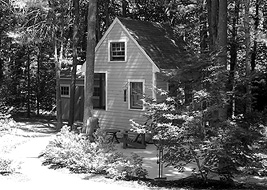 The above picture is of the Little House, a 12' by 12' shack with electricity, heat, carpet, and a rockin' stereo system. In front of the Little House is our new "afternoon deck," which was once home to the famed six-point-two sided hex-a-bench. Behind the Little House and to the left is a storage shed, and if you follow this path further to the left, you will arrive at our Tea-Tree House, a Japanese-Tea-House-inspired treehouse complete with sliding shoji doors. Our real house is a post and beam salt box.
Directions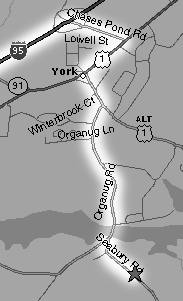 From I-95 North
On I-95 North, you will travel over the Piscataqua River Bridge. Welcome to Maine!
Take exit 4 (The Yorks). It is the last exit before the Maine Turnpike.
At the end of the ramp, bear right. You are now on a short access road.
Bear right at the first traffic light. You are now on US Route 1.
Quickly get into the left lane. Turn left at the next traffic light. You are now on Route 1A (York Street).
You are looking for Organug Road. There is a white church on the corner and a sign for York Middle School. Turn right onto Organug Road.
Pass York Middle School and the York Golf & Tennis Club. After a mile on Organug, you should see the York River.
Bear right to go over Sewall's Bridge (York River).
At the end of the bridge, bear left to go up Sewall's Hill. You are now on Seabury Road.
At the top of the hill, bear left to stay on Seabury.
Go half a mile on Seabury. After a small hill, turn left onto a private drive marked Seabury Cove Road. We also have a "Johnson" sign and the number 92 on a nearby tree.
Our house is the first house on this road. (Gray siding, yellow trim, attack dog in the driveway.)
Park in the driveway behind the house, wave to to Japanese Tea/Tree House, and come in through the garage.
If all else fails, give us a ring.