Jesse Kempner Thaler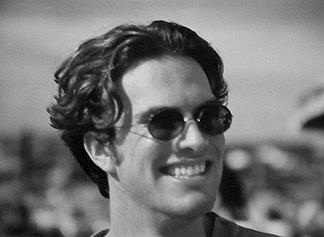 The Short of It
I am currently a
Miller Fellow
in
Theoretical Physics
at the
University of California, Berkeley
. Once upon a time I played tenor sax, but I switched to upright bass when I found out that "String Theory" was going to revolutionize particle physics.
The Long of It
Though I was born in
Minneapolis, Minnesota
, I spent my formative years in
York, Maine
. My brother, Aaron, and I used to play all sorts of fun games including "wig," which nearly resulted in vital organ loss. I survived through
York Middle School
despite soldered glasses, a bad hair-cut, and one-on-one math tutorials in a janitor's closet. My success was partly due to a love affair with a tenor saxophone.
I went to high school at
Phillips Exeter Academy
. It was here that I developed my radio personality, Lester Johnson, on 90.5 FM WPEA. I also learned how to rock out on the electric bass through a spiritual encounter with the band/fruit juice known as
Nedlog
. Oh, and I happened to meet a
fine looking Russian-Cuban
in a class on Zen Buddhism.
In 2002, I received an Sc.B. in Math/Physics from
Brown University
. At Brown, I was heavily involved with an upright bass named Else, until I was sucked into an eight-piece 70s funk band named DLicks. Lester spent a few too many hours doing
late-night freeform radio
at 95.5 WBRU. It was fun while it lasted... my/his sanity, that is.
Now I am engaged in an equally brain warping activity: theoretical physics. (Oh, and I'm also engaged. Period.) I recently received my Ph.D. in
high energy theory
at
Harvard University
, working with
Nima Arkani-Hamed
to elucidate some of the deep mysteries of the universe. See my
research
page to see my work on broken symmetries, the hierarchy problem, and the
LHC
.
I am currently doing post-doctorial research as a
Miller Fellow
at
UC Berkeley
. Wedding bells will be ringing soon enough, but in the mean time Sasha and I are soaking up the sun on the West Coast. Do
drop me a line
if you will be visiting the Bay Area.